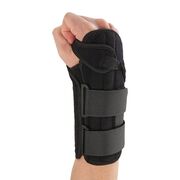 A cock-up wrist splint is a type of wrist hand orthosis which may be used to treat a wide range of conditions localized at or near the wrist and hand.
Design
[
]
Wrist splints are most commonly prefabricated with thermoplastics, cushion liners, and velcro and may contain metal or plastic stays. They vary in length and may or may not incorporate a thumb spica. [1] Generally, the wrist should be set in at least 20˚ of extension to prevent potential flexion contractures caused by prolonged use. [2]

[

]
Function
[
]
A wrist splint decreases recovery time by immobilizing, stabilizing, and protecting a healing injury. [3]
Indications
[
]
Wrist Splint Without Thumb Spica [4]

[

]
Boxer's Fracture
Wrist Sprain
Wrist Strain
Soft Tissue Injury
Distal Radial Fracture
Distal Ulnar Fracture
Wrist Contracture yaya
General Wrist Pain
Wrist Splint With Thumb Spica [5]

[

]
Scaphoid Fracture
Lunate Fracture
Trapezium Fracture
Carpal Tunnel Syndrome
First Metacarpal Fracture
Injury to the Ulnar Collateral Ligament of the Thumb
De Quervain's Tenosynovitis
Hamate Fracture
HCPCS Coding
[
]
L3914 - Wrist Hand Orthosis, Wrist Extension Cock-Up, Prefabricated, Includes Fitting/Adjustment [6]
References
[
]