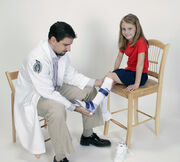 An orthotist (Greek: ortho, "straighten" or "align") is a healthcare professional specializing in the field of orthotics. In addition to orthotists a range of other healthcare professionals may also be capable of providing orthotic care, including medical doctors, podiatrists, pedorthists, and chiropractors.
Scope of Practice
Edit
An orthotist is a healthcare professional who is specifically educated and trained to manage comprehensive orthotic patient care. This includes patient assessment, formulation of a treatment plan, implementation of the treatment plan, follow-up and practice management. Orthotists evaluate a patient's condition, taking measurements and/or impressions of the involved body segments. Drawing on wide knowledge of biomechanics, materials and components, they design and fabricate custom orthoses appropriate to the conditions presented. Follow-up appointments are required to evaluate the efficacy of the orthosis; make adjustments/service the devices as necessary and promote patient compliance with the goal of achieving desired outcomes.
United States
Edit
A licensed orthotist is an orthotist who is recognized by the particular state in which s/he is licensed to have met basic standards of proficiency, as determined by examination and experience to adequately and safely contribute to the health of the residents of that state. The states that currently require licensure are Alabama, Arkansas, Florida, Georgia, Illinois, Kentucky, Mississippi, New Jersey, Ohio, Oklahoma, Rhode Island, Tennessee, Texas, and Washington.
An "ABC" or American Board of Certification certified orthotist has met certain standards; these include a degree in orthotics, completion of a one-year residency at an approved clinical site, and passing a rigorous three-part exam. A Certified Orthotist (CO) is an orthotist who has passed the certification standards of the American Board of Certification in Orthotics & Prosthetics. 
Beginning in January 2013, a master's degree in O & P will be the minimum requirement to become a certified practitioner. As of October 2012, there are nine active master's degree programs and four more are set to start in 2013.
United Kingdom
Edit
UK orthotists design and fit orthoses for all parts of the body, and are registered with the Health Professions Council. The training is a Bsc.(Hons) in Prosthetics and Orthotics at either the University of Salford or University of Strathclyde. New graduates are therefore eligible to work as an orthotist and/or prosthetist.
References
Edit
Community content is available under
CC-BY-SA
unless otherwise noted.