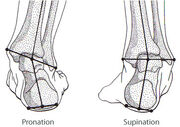 Pronation, opposite of supination, is the position of a body part or the entire body being ventral side down. In the case of the foot, the plantar surface is the ventral surface. [1]
The body is in a prone position when it is ventral side up. This would be laying down on the stomach, back up.
Pronation in the foot is a triplanar position, caused by the motions of eversion, abduction, and dorsiflexion. This could lead to a knock-kneed stance.
The hand is in a pronated position when it is palm down.
References
Edit