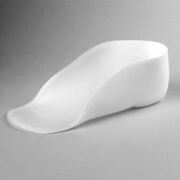 The UCBL was developed in 1967 at the University of California Biomechanics Laboratory or University of California at Berkeley Laboratory. [1] It is a rigid foot orthosis used to correct and/or stabilize a flexible foot deformity. 
Polypropylene or similar shell
Extrinsic post
High medial, lateral, and posterior walls
Footplate terminates at the sulcus, just distal to the metatarsal phalangeal joints
Optional topcover
Optional medial longitudinal arch padding
Optional full length footplate
There are three main corrective forces found in a UCBL. The deep, well molded, heel cup holds the hindfoot in the corrected position while the arch of the UCBL supports the midfoot, stabilizing the midtarsal joint, and the lateral wall controls the outside border of the foot.
Adult acquired flatfoot
Posterior tibial tendon dysfunction
Flexible pes planus
Plantar fasciitis
Heel Spurs
Flexible metatarsus adductus/abductus
Midfoot fracture
L3000 - FOOT, INSERT, REMOVABLE, MOLDED TO PATIENT MODEL, UCB TYPE, EACH
Community content is available under
CC-BY-SA
unless otherwise noted.